Things To Do
Tropical Winds has, more or less, it's own private beach just a very short distance away. View the spectacular sunsets and even possibly see dolphins foraging at dusk for food.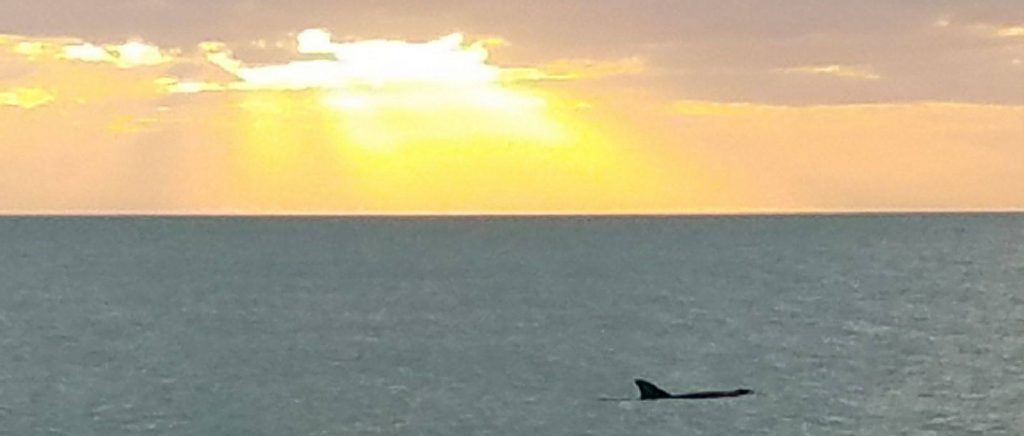 All units have their own Kitchenette with all the trimmings.
Dining on the islands is a mouth-watering experience! Award winning restaurants abound just a short drive from Tropical Winds. Get ready for the freshest of seafood, northern Italian cuisine, prime beef and amazing desserts. Try these local favorites: Doc Ford's Sanibel Rum Bar & Grille, Over Easy Cafe for breakfast and Island Cow – known for their huge menu and especially family-friendly settings. Thistle Lodge is perfect for that special evening and The Mucky Duck on Captiva is a great choice for beachfront dining.
Sanibel has wonderful shopping opportunities! Spend an afternoon cooling off while you "shop in a park" at the unique shops and restaurants in Periwinkle Place. There's even a playground to keep the kids happy! Boutiques are scattered across our islands and we're sure you will be able to find that perfect one-of-a-kind item that you're searching for. From neighborhood chocolatiers to custom jewelry and tropical apparel, there's something for everyone!
A dedication to the arts is apparent at every turn and has lead to many calling Sanibel the "Island of the Arts." One prominent organization, Barrier Island Group for the Arts (BIG Arts), offers first class concerts, literary discussions and a wide variety of workshops. At the Herb Strauss Theater performers and special guests stage musical reviews, comedies and well known plays.
Historic Sanibel Lighthouse
At the eastern tip of Sanibel Island is the historic, still functioning Sanibel Lighthouse. Built and first lit in 1884, today it is maintained by the Coast Guard. While not open to the public, this is one of the most popular spots on the island for photographers. The two stilt buildings next to the lighthouse are the original homes of the Keepers. Lighthouse Beach is a great spot to look for miniature seashells. Just around the tip of the island is the Fishing Pier where, day or night, the action can be hot! You'll also find great fishing right from our beach.
History buffs will want to be sure to spend time at the Sanibel Historical Village and Museum. Visitors trace footsteps from the past as they stroll along trails that skirt a mangrove bordered pond and lead to a fascinating look at our past. The Village opened in 1984 and is now comprised of eight separate buildings, each fully restored to its original state. The collection of photographs and newspapers alone is amazing.
The 100 acre Bailey Tract is a great place for nature photography and viewing wildlife. The (surprisingly) freshwater environment offers refuge for many birds that avoid the salty mangrove habitats and provides them an important stopover site during migration. Alligators and turtles are frequently seen sunning on the banks. River otters, bobcats and armadillos are present in the Tract but rarely seen. If you're quiet you may catch sight of raccoons, marsh rabbits, opossum and other animals that call this area home.
On Sanibel-Captiva Road, next to the Sanibel School is the Recreation Center. Activities and classes are available for all ages. Not one to feature just the usual gymnasium, weight and exercise rooms, the Rec Center has all that and more – here you can let the kids splash in the pool complete with slide or join activities in the Teen Center, enjoy an Arts & Crafts class or take advantage of cooler evening temperatures on the lit public tennis courts. Low cost daily and weekly memberships are available.
Bailey-Mathews Shell Museum
Sanibel's seashells aren't just on the beach! Down the road from the Rec Center and very close to Tropical Winds Motel & Cottages is the Bailey-Matthews Shell Museum. At the only museum in the world dedicated to shells, you can learn about Sailor's Valentines and see amazing collections of shells in colors you can only imagine. Children are welcome and there is an entire section set aside just for them to explore. Stop by the gift shop before you leave and pick-up a shell identification book to learn more about your own treasures.
Sanibel-Captiva Conservation Foundation
The Sanibel-Captiva Conservation Foundation (SCCF) is dedicated to education and the preservation of natural resources and wildlife habitats on and around Sanibel and Captiva Islands. SCCF offers a wide array of programs for all ages including beach and trail walks and boat and kayak tours. At their Nature Center you will find four miles of trails (with an observation tower), exhibits, a touch tank, butterfly house and Nature Shop and Bookstore.
One of the best ways to explore is on a bicycle and Sanibel is a cyclist's paradise. There are over 25 miles of dedicated, paved paths that run along the main roads and the scenic nature preserves. No bike? No problem! Tropical Winds has rentals on the premises. Contact the front desk and we'll be happy to set you up.
J. N. "Ding" Darling National Wildlife Refuge
The J. N. "Ding" Darling National Wildlife Refuge is a 6000+ acre sanctuary that offers wonderful bird watching spots, bike and walking paths, winding canoe trails and a four-mile scenic drive, all lush with tropical native foliage. Stop in the Educational Center before touring to pick-up a free booklet that lists points of interest and what may be seen at each. Be sure to bring your camera and binoculars! Low tide, when birds feed, is an ideal time to visit.
Located toward the northern tip of Sanibel, and a shell's throw from Tropical Winds is famous Bowman's Beach, one of the most picturesque on the island. This wide section of the beach is renowned for it's shelling. Secluded and quiet, you won't find any hotels here. Park and walk the scenic path over a footbridge to the beach. Outdoor showers, foot wash areas and large public restrooms are available as well as a new children's play area and fitness trail.
Continuing to the north, you'll soon come to the end of Sanibel and the tiny community of Santiva (a portmanteau of Sanibel and Captiva). The area is a charming mix of residential neighborhoods, a general store and excellent restaurants – The Mad Hatter & Sunset Grill serve up gourmet fare along with fantastic sunset views. The original Lazy Flamingo provides "local" atmosphere in a very casual setting. Blind Pass Beach is just before the bridge to Captiva and a popular place for fishing, shelling and nightly gatherings to watch sunset.
Cross Blind Pass bridge and you are now on tiny Captiva Island, one of the most exclusive islands in North America. The Village is the heart of Captiva and it's a lively place with several restaurants, shops, art galleries and homes. For a real vacation treat, stop into McCarthy's Marina and arrange to take a cruise aboard the Lady Chadwick with Captiva Cruises. Their Dolphin & Wildlife Cruise is perfect for the entire family, while the romantic Sunset Cruise, featuring live music, is a great way for couples to end another day paradise.